PINK CUBE is an intimate, non-profit exhibition space with a pink wall-paint containing body fluids. It is an alternative to the typical sterile white cube and it's inherent power structures, founded and run by artist Anja Carr since January 2011. As opposite to the shopping-window galleries PINK CUBE's entrance is located in a backyard at Grønland, central Oslo, through a labyrinth of corridors.
All the exhibitions at PINK CUBE are art-battles between two artists or artist groups. The duel-format aims to boosts fruitful artistic dialogue among artists from different generations or parts of the world and gives them the opportunity to test their artistic strengths. The battles include up-and-coming and well established artists working with all kinds of media.
In 2012 PINK CUBE won the Oslo-prize Best art of the year together with artists Unni Askeland (NO) and Tommy Olsson (SE) for Battle #8. For the 2014-program Carr had a special focus on live-performance and invited two co-curators; Maaike Gouwenberg (NL) and Charlotte Jansen (UK). In 2012 PINK CUBE was part of Fredrikstad Independent Art Fair (NO) and in April 2015 Battle #18 took place at Stockholm Independent Art Fair (SE).
PINK CUBE is supported by Arts Council Norway and The Municipality of Oslo, The Agency for Cultural Affairs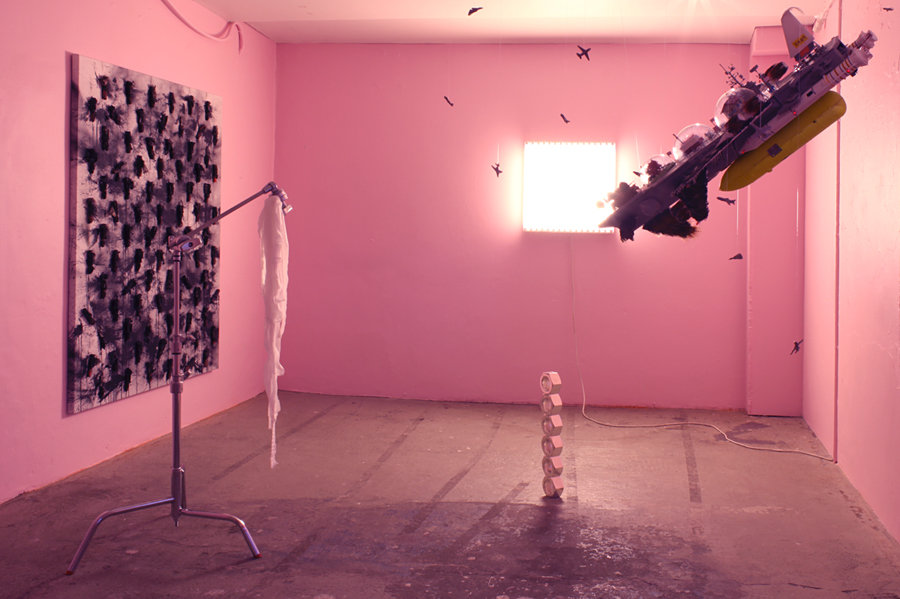 Above: Tammo Rist Explosion drawings (The Black Portrait) (condoms, acrylic paint and firecrackers on canvas) 2011 (left) Morten Kvamme Doubting the stalkers path (installation in three parts: steel, bandage, wax with spraypaint, fluorescent tubes with special made frequency) 2012 (middle) and Tammo Rist and Carl Fredrik Berg Last Chance 69 (model aeroplane, fur etc.) 2012 (right).